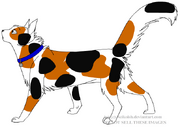 Princess is owned by Erin Hunter, this is simply Prez's version.
Princess is a small calico she-cat, the sister of Firestar and Scarface, the mother of Icestar, Coldwing, and Snowpaw, the aunt of Creamfur, Cloudclaw, and Blackfoot, the mate of Eeriefur, and the mother of Cloudtail.
Princess is a former kittypet and an elder of DawnClan.