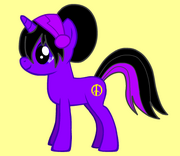 Mavis is a unicorn filly and the arch-nemesis (former closest friend, though Icis believes they're still friends) of Icis. Mavis believes in world peace and happiness, and when she found out Icis was in fact a reincarnation of Oceana, she recalled a lesson (full of lies) given by her mother on Oceana causing disruptions in the peace using the oceans. Despite the fact that Icis was a changed version of Oceana, Mavis halted their friendship and is attempting to use Icis to rule the oceans, believing she can sink all ships (thus halting communications between nations and also preventing any future disputes and wars).
Eventually, Mavis will succeed when she tricks Icis into being emo by shifting forms and marrying Icis's true love, Bach (not the musician but a stallion named after him), and murdering him.
Community content is available under
CC-BY-SA
unless otherwise noted.